I've listened with fascination to Rich Phillips's ads for Starwood Motors and its Kevlar Jeeps. Indeed, he apparently owns one. It has been awhile since I've heard the ad, but I could have sworn that he said it was Kevlar
lined
, or used Kevlar
lining
. But my recollection may be failing me here, or, more likely, I thought that Kevlar, being akin to a fabric (I thought), was used on the
interior
of the vehicle.
This was incorrect thinking.
The damned thing is
coated
with Kevlar.
I refer you to
the Starwood Motors page describing the Kevlar Jeep.
This particular one is sold as of the date of this posting, apparently, and indeed, the last time I went to this page, the Kevlar Jeep pictured was red. (If the link doesn't work, just google "Kevlar Jeep Starwood Motors" and you'll find it, unless, of course, you're using Bing.) Maybe you order one, or they customize one at a time on spec, I dunno. In any event, I invite you to click on the image and get a bigger picture and take a close look at the sheet metal, or where the sheet metal would ordinarily be visible.
Indeed, the text says:
"The entire exterior of the vehicle has been professionally coated with
Premium Protective Coating w/Kevlar Fiber
(4700 PSI tensile strength, which is over 200% strength of other brands), making it impervious to the elements." It warns buyers: "Beware of imitations! Many have tried to copy our unique Jeep conversions, only to produce uneven liner coverage, inconsistent or flawed texture, non-Kevlar liner, sub-standard parts and shoddy workmanship."
Now, I must say: (1) This vehicle looks pretty cool. The Chrysler folks are making some nifty vehicles these days, and until recently, I owned a Grand Cherokee SRT8 that was and is the absolutely coolest vehicle on the road for under $50,000 (it was my everyday driver and I traded it when the miles got way up there, and I'm even sorta sorry I traded it then). (2) The Kevlar doesn't look ridiculous, and the red was also very eye-catching. (3) I'm something of a Rich fan and if a vehicle nut like Rich vouches for the utility of this customization, I'll have some respect for that. Hey, it sent me to the site to check it out, and now I'm writing this article about it.
But I have a few questions:
-- How do you keep this stuff clean? There was a time when vinyl roofs were all the rage. Me Dad had an old Cutlass Supreme with one, and it didn't look bad, but it was a bear to clean -- swipe marks were all but impossible to avoid, and since you can't polish Kevlar like you can painted sheet metal (or can you? I have no idea), I'm wondering how it's kept looking nice. Maybe you just hose it off. Can you take it through a car wash?
-- "Impervious to the elements"? In what respect are today's cars pervious to elements? I can't remember the last time I even ever saw a rusty car, and man, I used to live in Chicago where (1) they salted the roads in the winter, and (2) they had winter.
-- How is collision damage repaired? Does this stuff rip? And assuming you can re-coat a repaired fender, does this stuff fade at all? I wouldn't think you could match existing material that had lost some of its color or that even was a bit nicked.
-- Will it stop bullets and stuff?
Let's just say it's easier for me to imagine Rich driving this vehicle than it is to imagine Danny driving any kind of a Volvo.*
====================
LATER: Rich's Kevlar Jeep: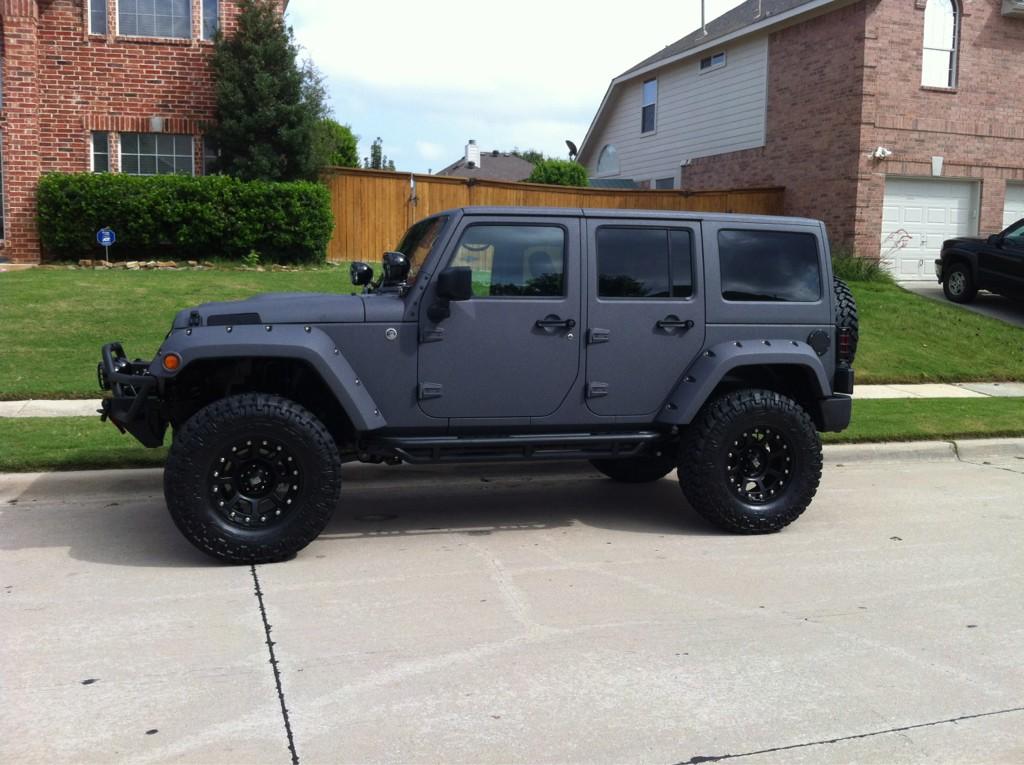 ______________________________
* Really sorry, Danny, I went looking for the name of the dealer you're endorsing but couldn't find it. I'll come back and fix this next time I hear the ad. And yeah, the S60 R-Design has some greatness about it, but I just can't get all up in any 5-cylinder engine -- it's like it's missing a chromosome or something.